The Other Billion Dollar Solid State Lithium Battery Startup
Over 50 global companies are battling to be the first true mass producer of Solid State Electrolyte (SSE) batteries.
Recent SSE announcements have piled on the pressure to move from lab & pilot scale to mass production.  Companies such as QuantumScape, SES, 24M, Qingtao Energy, Ganfeng Lithium, Welion, Prologium, etc  are accelerating development from pilot line trials to mass production.
There are multiple solid state strategies, the industry is primarily focused on the core three:
A) Polymer B) Oxides C) Sulfides.
Billion dollar SSE startup Qingtao Energy completed the 1GWh plant in 2020 and are now on schedule to complete the 10GWh facility by 2023.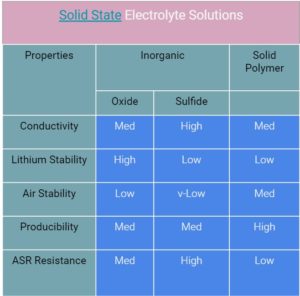 Lithium Anode _ Solid State Electrolyte _ Final
QuantumScape, SES, 24M Technologies, 江苏清陶能源科技有限公司  GanfengLithium, 北京卫蓝新能源科技有限公司 Welion, 輝能科技 Prologium, Solid Power, Inc. #7kingenergy TeraWatt Technology Inc. Factorial Energy SERES EV 江西星盈科技有限公司 Ion Storage Systems
#automotive #volkswagen #electricvehicles #cars #lithiumionbatteries #lithium #emobility  #future #manufacturing #business #technology #battery #EV #batterypack #future #markets #innovation #technology #business #NEV #supplychain #energy #SSE #charging  #sustainabilty #spac #investment